50k/30k/20k/11k/5k distances
We NO LONGER organize unique mountain bike  +  trail running events
Outward Bound Base
2954 Kyogle rd, Kunghur NSW
MT Warning (Wollumbin) Volcanic Caldera
Uki/Kunghur (Vicinity)(NSW)
Start Times: 7am (50k/30k): 8am (20k/11k/5k)
NSW Daylight saving time
What the Trail Runners say:
Thanks again  for putting on such a great event.  I seriously loved loved loved those trails.
Jill
Thanks for the most awesome event on the weekend! It was so much fun and the most awesome first trail run event for me. Thanks for the organization, the volunteers, and the great location! It truly was a fabulous event! I can't wait to be back next year!
Jude
Welcome to the 6th annual Misty Mountain Trail Run event (2018).  Run inside a giant shield volcano!  This is a fun and challenging event open to all ages 12 years+.  Great trails, fun course, happy people, transponder timing and results.
The Misty Mountain Trail Run is on the Misty Mountain 3000 acre private property inside the magnificent Wollumbin (Mt Warning) volcanic caldera.
This stunning area encompasses the massive 20 million year old shield volcano with surrounding views of the outer rim in every direction. From this area you can clearly see Mt Warning (Wollumbin) and the impressive 600m high crater wall reaching up into the Border Ranges National Park.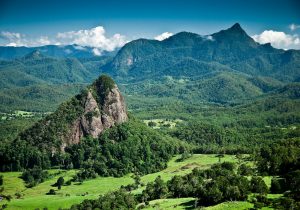 This is a running event but we welcome anyone who wishes to Walk or Speed/Walk the events. The walkers will start in a wave behind the runners wave.
This event is organized in tandem with the MTB Marathon we have been running in this area for 10 years.
The Outward bound Outdoor pursuit centre is 40 minutes from Byron bay, 1hr from the Gold Coast,  2hrs from Brisbane and 3hrs from Coff's Harbour.
Accommodation Options:
Camp over at the Outward Bound Outdoor pursuit centre campground before the race, its a beautiful campground with lots of space and great facilities.
Camping Payment Policy.  Payment must be made in advance when you register online (on the Merchandise page).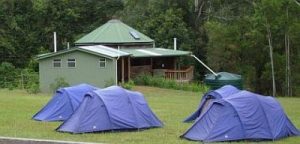 Outward bound  Outdoor pursuit centre campground facilities include:
150+ camp sites (Grassy spots)
Toilets
Showers
Fire pits (bring your own fire wood)
If you have a Caravan or Camping trailer we have lots of space for you.
Bring your own drinking water.
Camping Fees: $22 Per Night  Per Adult/15 years +
Also On the Race Property:
Lotus Belle Tent Luxury Tent Camping (2 Adults) $129 per night
To Book this luxury tent  Call Scott or Sally.  02 6679 7374
Click Here to see what it looks like.
Email Scott: scottpoad76@gmail.com
Not set up to camp? local accommodation options.
Stay in nearby at Mt Warning Forest Hideaway (on Byrrill creek rd) which is 14k from the start. 8 studio cabins. 02) 6679 7277.
Click here for more info on Mt Warning Forest Hideaway
Stay at Mt Warning Rain forest Holiday park. 15k away. Cabins. Telephone: 02 6679 5120
Click here for the MT Warning Holiday park
Or Stay in Uki or Murwillumbah (10 – 20 minutes from Interaction)
Various accommodations.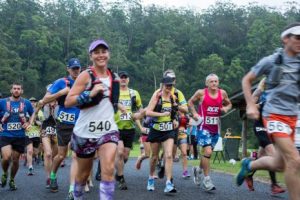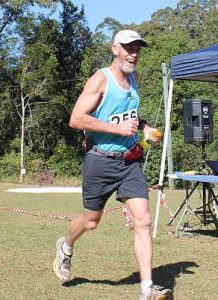 Trail Run Course:
The course is a 20k loop which have a combination of Dirt roads, Fire trails, 4WD trail, and 9k of Single track. This course includes some Rain forest sections. Lots of short climbs and descents encompassing the amazing Misty Mountain private property.
50k runners do 3 laps (FOLLOW RED ARROWS)
30k runners do 2 laps (FOLLOW RED ARROWS)
20k runners do 1 lap (FOLLOW RED ARROWS)
11k runners do an abridged single lap (FOLLOW ORANGE ARROWS)
5k runners do an abridged lap (FOLLOW GREEN ARROWS)
Trail surface is a combination fast dirt/clay (fire roads and trails), rain forest trails.
Elevation profile details:
500 metres of Climbing/Descending per 20k lap (3k Downhill to finish!).
Please Note: To protect our private property owners from trespassers we have decided to not supply course maps here.
Arrival times/Camping:
Everyone is welcome to come to Interaction on Friday if you want to camp for 2 nights (The earlier you arrive the better camp spot you will get).
Event Programme:
Saturday 15th
Set up camp from 4pm
If you are coming early in the day be aware the MTB race is on.
Sunday 16th: RACE DAY

RACE DAY ENTRIES. $15 Late Fee applies to entries on the day
NUMBER BIB PICKUP and TRANSPONDER BAND opens at 6AM closes at 7.45AM.
Run course briefing 5 minutes before each event start. YOU MUST be on the line for the briefing.
Trail Run Start Times:
7am (50k/30k)
8am (20k/11k/5k)
50k/30k/20k/11k/5k Age Categories:
Open to runners 12yrs and above.
Please note: 12 – 16yrs may only enter the 11k/5k events.
Parents must sign entry form/release.
17yrs+ can enter the 50k/30k/20k/11k/5k Misty Mountain Trail run
Water Stations:
3 (per lap) on the course
Please note:
We will not be supplying cups. All 50k  30k and 20k runners MUST carry their own bottles Minimum size 600ml to refill at the Water/fuel stops.
NO WATER BOTTLE NO START.
Directions: How to get there
Click here for directions to Outward bound Interaction
Share your car:
Be ecologically and economically wise and share your car/transport with another rider.
Climate/Stats:
Elevation:150m
Sunset:6.10pm
Sunrise:5.11am
Average Daily Temperature: 20.9c
Average Night time Temperature: 9.9c
Safety/Support:
Every participant must obey all rules, marshals and organizers instructions. Medical personnel will be on hand for runner support. Runners are responsible for their own Insurance/medical coverage.
Volunteers:
If your friends/supporters are available for marshals on the day contact us. FREE LUNCH and FREE ENTRY to a future event (up to Value $60) Contact Anthony. Email anthony [at] summerofcycling.com
Musashi Smoothie Recovery Drink/race numbers: 
All entered runner receive a Musashi Protein/Carb Banana Smoothie Recovery Drink as part of your entry. It will be served after you finish, Your RACE NUMBER is your drink ticket to be returned (BECAUSE WE RE-USE THEM).
Thanks to the Sponsors:

Prizes:
Glass Trophies for Top 3 Men and Women in each event.
Spot prizes
ENTRY FEES:
50km Misty Trail Run: $85
(Includes 2 Free Trial Issues of Runners World Magazine and  Protein/Carb Banana Smoothie Recovery Drink)
30km Misty Trail Run: $65
(Includes 2 Free Trial Issues of Runners World Magazine and  Protein/Carb Banana Smoothie Recovery Drink)
20km Misty Trail Run: $55
(Includes 2 Free Trial Issues of Runners World Magazine and  Protein/Carb Banana Smoothie Recovery Drink)
11km Misty Trail Run: $45
(Includes 2 Free Trial Issues of Runners World Magazine and  Protein/Carb Banana Smoothie Recovery Drink)
5km   Misty Trail Run: $35
(Includes 2 Free Trial Issues of Runners World Magazine and  Protein/Carb Banana Smoothie Recovery Drink)
All Entry Fees include:
Misty Mountain Property Fee
Outward Bound Fee
Active Network  Fee
Transponder Timing
Tell your friends, get your mates together for a great weekend and start training!
---