60k/40k/20k/11k/5k Mountain Bike race
Saturday December 15th 2018:
Outward Bound
2954 Kyogle rd, Kunghur NSW
MT Warning (Wollumbin) Volcanic Caldera
Uki/Kunghur (vicinity),
NSW. Australia
8.30am start NSW Daylight Saving Time
ONLINE ENTRIES CLOSE DEC 8TH.
QUICK LINK TO ENTER:
Secure Credit Card Entry with Active Network Click Here to Enter and Pay by Credit Card
What the MTB Riders say:
As a MTB rider who likes to do a few races, this is exactly what I am looking for in a race; Great course; Fun racing; Friendly, happy people, beautiful location; awesome food and quick presentations! Well done Anthony and your team! Steve
Welcome to the 10th annual Misty Mountain MTB Marathon event (2018).  Ride inside a volcano!  This is a fun and challenging event open to anyone with a mountain bike. But you better do some training!  Beginners, novices, veterans and elite riders are all invited to come out and enjoy a great day of riding/racing. Solo and 2 Person Team category events.  Great trails, fun course, happy people, transponder timing and results.
The Misty Mountain MTB Marathon (Outward bound//Misty Mountain) 3000 acre private property is inside the magnificent Wollumbin (Mt Warning) volcanic caldera.
This stunning area encompasses the massive 20 million year old shield volcano with surrounding views of the outer rim in every direction. From this area you can clearly see Mt Warning (Wollumbin) and the impressive 600m high crater wall reaching up into the Border Ranges National Park.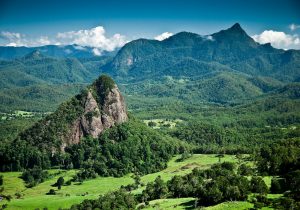 The Outward Bound  base Outdoor pursuit centre is 40 minutes from Byron bay, 1hr from the Gold Coast,  2hrs from Brisbane and 3hrs from Coff's Harbour.
Accommodation Options:
Camp over at the Outward Bound Outdoor pursuit centre campground before the race, its a beautiful campground with lots of space and great facilities.
Camping Payment Policy.  Payment must be made in advance when you register online (on the Merchandise page).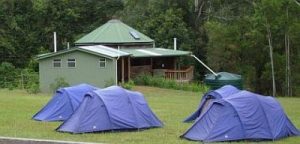 Outward bound Outdoor pursuit centre campground facilities include:
150+ camp sites (Grassy spots)
Showers, Toilets ,Fire places
Bring your own drinking water.
Camping Fees: $22 Per Night  Per Adult/15 years +
Not set up to camp? 4 local accommodation options.
4 bedroom house on Race property,
The house is available at $200 per night up to 6+ people
(can sleep 10 at $30 extra per person over the 6 people . So $320 for 10 people. There are 2 queens 1 double and 4 single beds .All linen supplied )
Also 2 cabins available ( queen bed plus bunk bed ) for $100 night Bring your own Linen.
Contact Peter to inquire: 0408874640 or  pvanlieshout [at] live.com.au
Stay in nearby at Mt Warning Forest Hideaway (on Byrrill creek rd) which is 14k from the start. 8 studio cabins. 02) 6679 7277.
Click here for more info on Mt Warning Forest Hideaway
Stay at Mt Warning Rain forest Holiday park. 15k away. Camping and cabins. Telephone: 02 6679 5120
Click here for the MT Warning Holiday park
Or Stay in Uki or Murwillumbah (10 – 20 minutes from Interaction)
Various accommodations.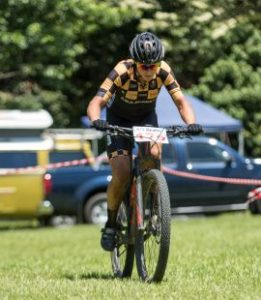 Course details:
This is a MTB Marathon multi-lap event. The course is a 20k loop which have a combination of Dirt roads, Fire trails, 4WD trail, and 9k of Single/double track. Lots of short climbs and descents this course will put a big grin on your face. Encompassing the amazing Misty Mountain private property (3000 acres). New 11k event is for 8 – 11yr old's.  Free 5k event is for 5 – 7yr old's.
60k does 3 laps
40k does 2 laps
20k does 1 lap
11k does an abridged lap
Trail surface is fast (when its dry) Clay hard pack. Fast ,fun flowing climbs/descents. The Course is fully ride able can handle any rain and drains off quickly so we are sticking with it.
Elevation profile details:
500 metres of Climbing/Descending per 20k lap (3k Downhill to finish!).
Please Note: To protect our private property owners from trespassers we have decided to not supply course maps here.
Water Stations:
3 (per lap) on the 60k course
2 (per lap) on the 40k/20k course
Event Programme:
Friday 14th (Come early!! to get the best camp spot).
Saturday 15th Race Day:

Registration from 6.30am – 8.15am NUMBER PLATE PICKUP and TRANSPONDER BAND
Free 5k Kids event (parents must ride with kids)7.30am
RIDERS SAFETY BRIEFING AT 8.15am.
8.30am Start
60k/40k/20k/11k Categories: (Single Speed and Fat Bikes welcome)
Open to riders 8yrs and above. (Its recommended that 12year old's ride the 20k)
Please note:
8 – 11yrs may only enter the 11k event.
12 – 16yrs may only enter the 40k and 20k event.
17yrs+ can enter the 60k/40k/20k.
Solo Man/Women/2 person Teams
12 – 16yrs
17 – 29yrs
30 – 39yrs
40 – 49yrs
50 – 59yrs
60 – 69yrs
70yrs+
2 person Teams
2 person Team (Men)
2 person Team (Women)
2 person Team (Mixed)
2 Person Teams:
This is not a relay. Both riders ride the whole course together. Team times and prizes are based on the cumulative times of both riders.
Climate/Stats:
Elevation:150m
See current weather radar click pic link below.

Directions: How to get there
Click here for directions to Outward bound Interaction
Share your car:
Be ecologically and economically wise and share your car/transport with another rider.
Arrival Times:
If your camping please arrive Friday before 10pm. (The earlier you arrive the better camp spot you will get). If your arriving race day get to registration an hour before your start.
Prizes:
Top 3 Prizes Men/Women/Juniors in each event.
Plus Top 3 age category trophies (Etched Glasses) and spot prizes.
[Volume Entry Cash Bonus (VECB) If 100 or more riders enter in any given event we will pay Cash prizes for Top 3 Men and Women]
Musashi Smoothie Recovery Drink/race numbers. 
All entered riders receive a Musashi Protein/Carb Banana Smoothie Recovery Drink as part of your entry. It will be served after you finish, followed by the prize giving at 12.30pm. Your RACE NUMBER is your drink ticket to be returned (BECAUSE WE RE-USE THEM).
Thanks to the Sponsors:
Safety/Support:
Every participant must wear a helmet, ride a safe bicycle, carry a spare/tools and obey all rules, marshals and organizers instructions. Medical personnel will be on hand for rider support. We count on you to ride in a safe manner. Riders are responsible for their own Insurance/medical coverage. No MTBA license required.
Entry Fees:
Solo 60km Marathon: $95 (Includes MTB Tube and Protein/Carb Banana Smoothie Recovery Drink)
Solo 40km Marathon: $85 (Includes MTB Tube and Protein/Carb Banana Smoothie Recovery Drink)
Solo 20km Marathon: $75 (Includes MTB Tube and  Protein/Carb Banana Smoothie Recovery Drink)
Solo 11km Marathon: $35 (Includes MTB Tube and  Protein/Carb Banana Smoothie Recovery Drink)
Enter as a Team:
2 Person Team 60k Marathon: $190 (Includes MTB Tube and  Protein/Carb Banana Smoothie Recovery Drink)
2 Person Team 40k Marathon: $170 (Includes MTB Tube and  Protein/Carb Banana Smoothie Recovery Drink)
2 Person Team 20k Marathon: $150 (Includes MTB Tube and  Protein/Carb Banana Smoothie Recovery Drink)
All Entry Fees include: Misty Mountain day use Fee $5 and the Active Network processing Fee $5 plus Transponder timing and results..
Tell your friends, get your mates together for a great weekend and start training!
Late Entries on the day incur a $15 late fee.
HOW TO ENTER:
MISTY MOUNTAIN MTB MARATHON
Secure Credit Card Entry with Active Network
Click Here to Enter and Pay by Credit Card

---