50k/25k/12k/5k Mountain Bike Event
We NO LONGER organize unique mountain bike  +  trail running events

Rummery Park. (World Heritage) Nightcap National Park
Byron bay Hinterland, NSW. Australia
Start Times: (5k Kids w/parents) 7.30am, (50k) 9.30am,  (25k) 9.45am,  (12k) 9.50am
NSW Daylight Saving Time. Its Cooler in the Rain forest!
What the riders say:
The downhills are an out of body experience!  Wayne B

Photo Credit: Matt Simpson.
Welcome to the 12th annual Freedom MTB Marathon (2018). This is a fun and challenging event open to anyone with a mountain bike. But you better do some training! Beginners, novices, veterans and elite riders are all invited to come out and enjoy a great day of riding/racing. This year is a 12k course for 8 – 11 year old's plus transponder timing and results for everyone.
The Whian Whian State conservation area forest is surrounded by the Nightcap national park. Both are beautiful warm temperate and subtropical rainforests with amazing views from the top of water falls (Minyon Falls, Quondong falls, Rocky Creek) high up in the Byron bay hinterland.
The Freedom Marathon starts at Rummery Park a camping area inside the forest. Camp over in Rummery park friday night before the race, or stay in nearby Mullumbimby (30 minutes from Rummery park)
Rummery Park camp facilities include:

Approx 35 camp sites (Grassy spots)
Toilets
BBQ Cooking (gas and wood)
Fire places
NO PETS
Bring your own wood and drinking water. Camp Fees: $20 (per adult/15 years + ) Free (children 5yrs – 15yrs)
National parks have blocked the Rummery Park campground to the general public, It is only for our participant use on Friday the 9th and  Saturday 10th.
Campground booking . You must prepay and book in advance when you enter online.  Limited camp sites available/ Max 45 people. We will be checking all registrations and campers, if you are not on the prereg camp list the cost will be $25 per person per night.
Please note: Limited parking at Rummery Park, riders may be asked to move their vehicles just down the rd to Minyon falls car park. Click here for more info on Rummery Park
Click Here for our Official Accommodation Service: (Byron Bay Accommodation)
Click Here to view some Byron Bay accommodation [Roamfree Travel Network]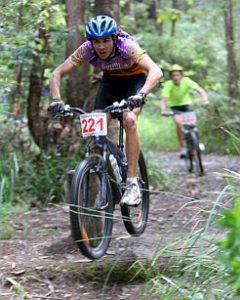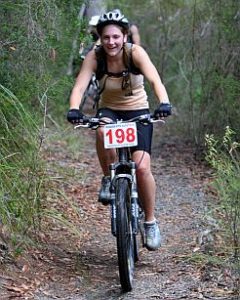 Course Design:
The 50k event features the 5k single track start and the combination of the two massive downhills (10k + 6k). The 25k features the 6k descent. All events traverse the upper reaches of the Nightcap wilderness (once again) before descending to the finish (via some new single track trail we have never used before).
All riders follow the RED arrows. The 50k is quite a bit more epic for riders (some say its equivalent to a 80k). The 25k event is also challenging and fun. We also have the 12k kids/Newbie Adult event on the awesome Eastern Fire break loop.
Dirt roads, fire trails, and single track/double tracks. Clay hard pack, awesome tree cover. Fast ,fun flowing climbs/descents. Defined racing lines! (Eastern Fire break) 99% of the course is in the Forest.
Special features lots of climbing and descending (including the Gibbergunyah rd descent of 10km+ on the 50k course) . The course also surrounds the stunning Rocky Creek dam and catchment area. National parks have again approved 3 new great tracks for use for the Freedom MTB Marathon.
Course Maps:
Click here for the Map My Ride Freedom MTB Marathon 12k course
Click here for the Map My Ride Freedom MTB Marathon 25k course
Click here for the May My Ride Freedom MTB Marathon 50k Course
This course is awesome and will put a smile on your face!
Trail conditions:  Great always! even if we have rain this course can handle it and is totally ride able and fun!
Event Programme:
Friday 9th Come early/Set up camp/ride the course.
Saturday 10th: RACE DAY
Registration from 6am – 9.15am NUMBER PLATE PICKUP and TRANSPONDER BAND
RACE DAY ENTRIES. $15 Late Fee applies to entries on the day
Start Times:
Free 5k kids event 7.30am (parents must ride with kids)
50k 9.30am
25k 9.45am
12k 9.50am
50k/25k/12k 5k Categories: (Single Speed and Fat Bikes welcome)
Open to riders 8yrs and above.
(Its highly recommended the 12yr to 15yr old's do the 25k)
Please note:
8 – 11yrs may only enter the 12k event.
12 – 16yrs may only enter the 50k and 25k event.
17yrs+ can enter the 50k/25k.
Solo Man/Women/2  person Teams
8 – 11yrs / 12yr – 16yrs  / 17yr – 29yrs  /  30yr – 39yrs / 40yr – 49yrs / 50yr – 59yrs / 60 – 69yrs/ 70yrs+
2 person Teams
2 person Team (Men) /  2 person Team (Women) /  2 person Team (Mixed)
This is not a relay. Both riders ride the whole course together. Team times and prizes are based on the cumulative times of both riders.
5k kids event: 7.30am start Free entry on the day.
5k kids event. Ages 6 to 11.
Parents must ride with there kids.  Parents must sign entry form/release.
Water stops:
Yes we have water on the course.
50 litres at approx 26k
25 litres at approx 30k
50 litres at approx 36k
50 litres at approx 45k
100 litres at the Start/finish
Climate/Stats:
Rummery Park Elevation:370m
Sunset:6.10pm
Sunrise:5.11am
Average Daily Temperature: 20.9c
Average Night time Temperature: 9.9c
See current weather radar click pic link below.

Directions: How to get there
Click here for directions to the Freedom Marathon
Share your car:
Coming to the Freedom marathon? There is limited parking space in the forest.
Be ecologically and economically wise and share your car/transport with another rider.
Arrival times:
If your camping please arrive Friday before 10pm. (The earlier you arrive the better camp spot you will get). If your arriving race day get to registration/number pick up before it closes at 9.45am.
Parking:
All riders and supporters who come to camp friday night will have first preference to parking in Rummery park. All riders who arrive the morning of the event must park on the RIGHT HAND SIDE of the Minyon falls/Nightcap range rd or you also may be directed to overflow parking areas 2k away from Rummery park. We have Parking marshals to direct you.
National Forest care:
This is a National Forest park with precious wild life/flora and fauna. The organizers of the Freedom marathon will not allow littering by riders or spectators.  Please carry all your food/gel wrappers with you.  If you see somebody litter please take their number. We will disqualify them No questions asked. No pets allowed.
Volunteers:
If your friends/supporters are available for corner marshals on the day contact us. FREE LUNCH and FREE ENTRY to a future event (Value$80) Contact Anthony. Email anthony [at] summerofcycling.com
Prizes:
Top 3 Prizes Men/Women/Juniors in each event.
Plus Top 3 age category trophies (Etched Glasses) and spot prizes.
[Volume Entry Cash Bonus (VECB) If 100 or more riders enter in any given event we will pay $1000 in Cash prizes for Top 3 Men and Women ($250, $150, $100)]
Musashi Protein/Carb Banana Smoothie Recovery Drink/race numbers:
All entered riders receive a Musashi Protein/Carb Banana Smoothie Recovery Drink as part of your entry. Protein/Carb Banana Smoothie Recovery Drink will be served after you finish, followed by the rolling  prize giving starting at 11.30am.
Your RACE NUMBER is your Protein/Carb Banana Smoothie Recovery Drink ticket to be returned (BECAUSE WE RE-USE THEM).
Thanks to the Sponsors:
Safety/Support:
Every participant must wear a helmet, ride a safe bicycle, carry a spare/tools and obey all rules, marshals and organizers instructions. Medical personnel will be on hand for rider support. We count on you to ride in a safe manner. Riders are responsible for their own Insurance/medical coverage. No MTBA license required.
ENTRY FEES:
Solo 50km Marathon: $95 (Includes MTB Tube and Protein/Carb Banana Smoothie Recovery Drink)
Solo 25km Marathon: $85 (Includes MTB Tube and Protein/Carb Banana Smoothie Recovery Drink)
Solo 12km Marathon: $45 (Includes MTB Tube and Protein/Carb Banana Smoothie Recovery Drink)
Enter as a Team:
2 Person Team 50k Marathon: $190 (Includes MTB Tube and Protein/Carb Banana Smoothie Recovery Drink)
2 Person Team 25k Marathon: $170 (Includes MTB Tube and Protein/Carb Banana Smoothie Recovery Drink)
RACE DAY ENTRIES. $15 Late Fee applies to entries on the day
All Entry Fees include: National Park per person fees (which have just gone up again in 2018, hence the entry fee increase) and the Active Network processing Fee $5 per rider and transponder timing.